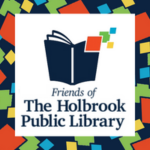 The Holbrook Public Library is your GATEWAY to wonderful print & digital information and experiences for all ages. Borrowing books and media from the library is FREE to anyone with a library card! All programs for adults and children are open to the public and FREE even if you don't have a card.
Do you have a card? If not, you're missing out on a lot of really great things. To get one, bring proof of Massachusetts residency to the library main desk and the staff will start you on your way to a wealth of resources.
You can SUPPORT your library through the Friends of the Holbrook Public Library, Inc. organization, a nonprofit, all-volunteer group that raises funds to promote all aspects of the library's mission. The funds we raise will supplement the money allocated to the library by the town.
How to support the Friends:
Donate adult and children's books (hardcover, paperback, and audio), CDs, and DVDs. Item donations can be brought to the library at any time during library hours. Donated items will be sold in the Book Alley book sale. All proceeds from sales of donated items go to fund the mission of the library.

Shop in the Book Alley. All proceeds from items purchased in the Book Alley go to fund the mission of the library. 

Volunteer with the Friends. Friends volunteers might help stock the book sale, create raffle prizes, plan future events, and more. 

Monetary donations. A donation box is available at the library check-out desk. Checks made out to the Friends of the Holbrook Public Library can be given to library staff or mailed to the library. You can donate online by clicking the PayPal icon below. 
Contact the Friends
To contact us, email us at FriendsofHolbrookLibrary@gmail.com
Donate Online